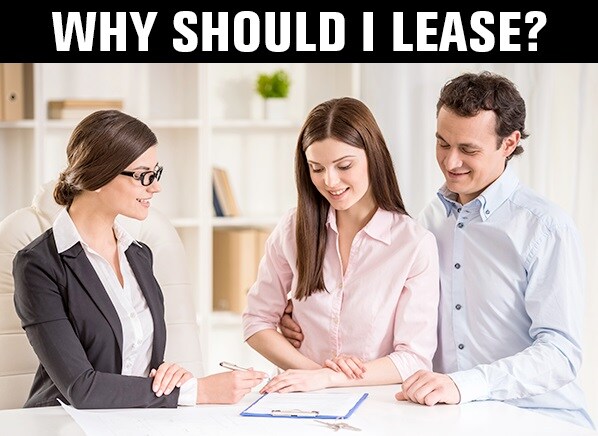 Here are some questions to ask yourself when thinking about leasing:
How many miles do I drive per year?
How long do I typically keep my vehicles?
Do I want to stay under factory warranty and drive a new car every two or three years?
Below is a comparison chart between Leasing a vehicle and Purchasing a vehicle
Leasing vs Buying a car
Leasing
Buying
What should I do?
Monthly Payments
Lease payments are almost always lower than loan payments because you're paying only for the vehicle's depreciation during lease term.
Loan payments are usually higher than lease payments because you're paying off the entire purchase price of vehicle plus interest and taxes and fees
If you plan to keep the car for a long time then purchase.

If you like being under factory warranty and want something new every three years then lease.

Up-front costs
First month payment is generally the only thing due at signing
Depends on where you need your payment to be. Keep in mind you will have to pay full tax on the purchase price
If your goal is low payment and minimal up-front costs then lease.
What are mileage restrictions
Normal terms for mileage are as low as 10,000 miles per year/12K miles per year/15K miles per year. You can buy miles as well
No mileage restrictions
If you drive under 20K miles per year then leasing is still good option. If you drive well over 20K miles per year then we would suggest to purchase
Guaranteed Purchase price
You are given up front what the car is guaranteed to be worth at the end of your lease term. If it is worth less than that guaranteed amount at end of lease term then turn the vehicle in and walk away. If it is worth more than the guaranteed purchase price then buy the vehicle and trade it in and keep the equity for yourself
No guaranteed purchase price offered. Depending on how long you finance your vehicle the normal time frame before you start seeing any equity is three and a half years in to a 60 month loan for example barring excessive mileage.
Consider this: If you were looking to buy a house for $100,000 but you knew that

in 3 years

that that house would only be worth $80,000, would you buy it or rent it?
What are the benefits to the dealer?
The dealership knows that you will be coming back in for another new vehicle when lease term is up.
Customers typically spend more in the service department maintaining their vehicle when they "own" it.
Depends on how long you want to keep the vehicle and what your driving habits are and what you will be using the vehicle for.
Do I own the vehicle?
No, you are leasing this vehicle from the OEM financial institution
No, not until you make your last payment
Ask yourself this question? How many times have I paid off my vehicle?
I normally pay cash for my vehicles, what are my options with leasing?
You can pay up front the total amount of payments for your leasing term. Generally there is a benefit or break on interest when paying up front.
If you're a cash buyer the vehicle is yours.
Depends on how long you plan to keep your vehicle. If you trade every three years consider the one pay lease.